"Legends say that hummingbirds float free of time, carrying our hopes for love, joy and celebration. Hummingbirds open our eyes to the wonder of the world and inspire us to open our hearts to loved ones and friends. Like a hummingbird, we aspire to hover and to savor each moment as it passes, embrace all that life has to offer and to celebrate the joy of everyday. The hummingbird's delicate grace reminds us that life is rich, beauty is everywhere, every personal connection has meaning and that laughter is life's sweetest creation." Papyrus
Having held a small hummingbird in my hand, feeling his small heartbeat, does leave you with a sense of the fragility of life. Just think, these small birds travel far distances with many obstacles in their way . . . It has been recorded that a hummingbird migrated from Florida to Alaska.
Bull River Guest Ranch
In May of this year, I attended the Gerlach's hummingbird workshop, located at Bull River Guest Ranch, Cranbrook, British Columbia, Canada.  Of course, my husband, Jim, went for the fabulous fly fishing. Unfortunately, he learned that floating the rivers fly fishing did not start until June 15. So his only fishing would be lake bound.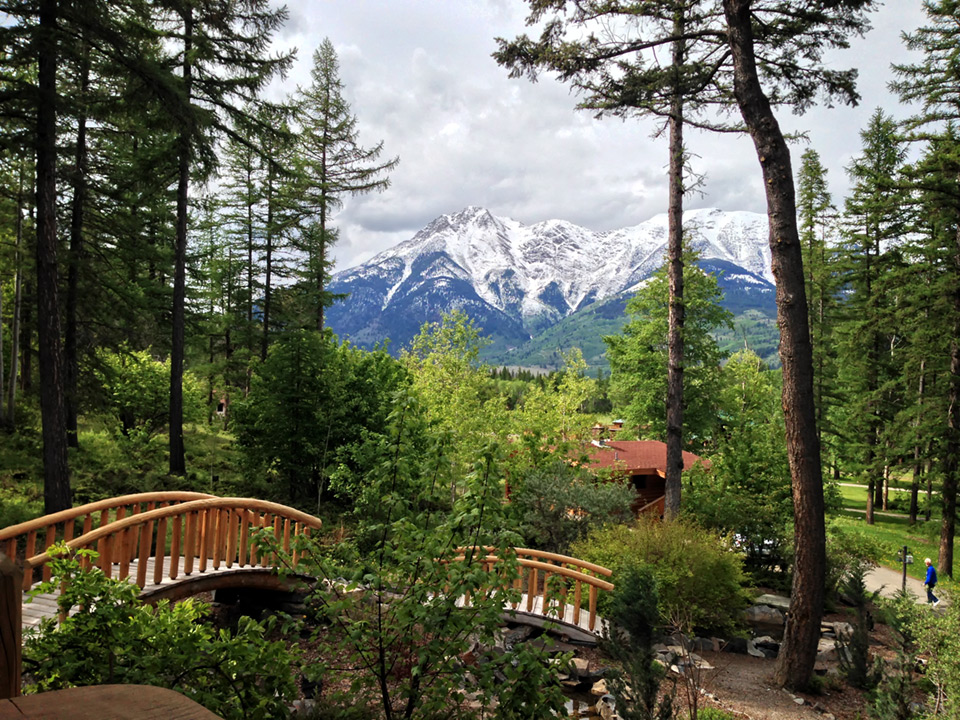 The Gerlach's have established quite a presents at Bull River . . . requesting and receiving beautiful plants, which have been planted in strategic areas, and the managers of Bull River built a small waterfall for the birds. They put together a nice hummingbird setup, and boy did we have hummers!
The ranch, itself, is absolutely beautiful. It lies in a small valley nestled in the Canadian Rockies. We were treated to a scenic drive 12 miles inlet from the main road, crossing a deep gorge with raging waters, and encountering a herd of Big Horn sheep. There is an abundance of wildlife . . . an unspoiled wildness. We were informed of carrying bear spray for hiking since there were grizzly sightings close by. The ranch sits on 300 acres with a small lake, barn and pastures. So you can easily enjoy hiking just around the ranch. But for the more adventurous at heart, there are the backcountry lakes. Don't forget your bear spray.
Gina and Greg, the managers/owners, have established a place of  homestyle hospitality with a touch of western atmosphere.  This delightful couple extend their friendliness to all. Jim enjoyed Greg's company, and he especially enjoyed the impromtu scotch tasting, where fly fishing and hunting were the topic of the day. The signature of a great place is a place that beckons visitors to return, and we will be back.
The cabins are lovely. May was still quite chilly but we were welcomed to a toasty warm cabin with a fire already going in the fireplace stove. Our cabin, No. 3-Mustang, was a one bedroom with a kingsize bed, a livingroom/dining area, a full kitchen, and a private bathroom.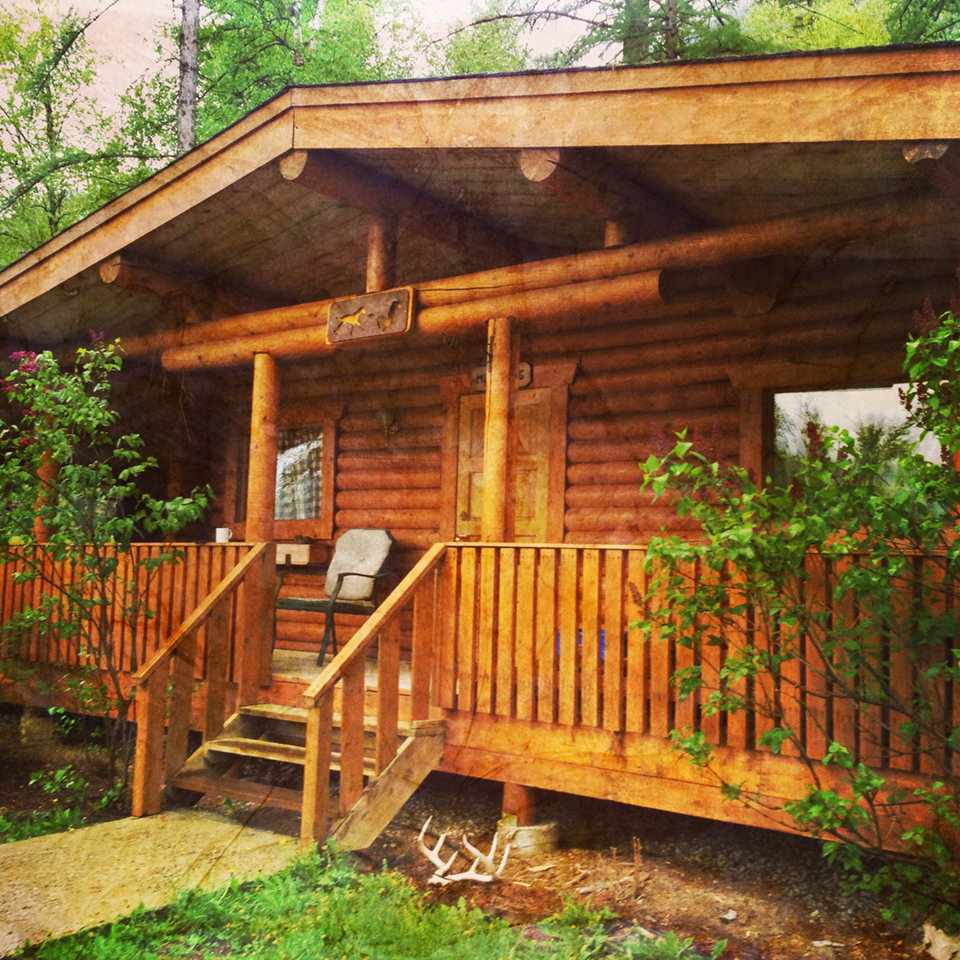 The main lodge is located a short walking distance from our cabin. You entered into a large cavernous room with a beautiful stone fireplace and  huge, comfy leather sofas surrounding it. And, everywhere you looked there are picturesque windows showing off the magnificent views of the snow capped mountains.
Our introduction to C.J., the staff gourmet chef, was "after the week is through, you'll want to bring her home with you." And, that is so true. Not only was C.J. probably the best chef I have ever encountered, she had a bright, winning personality that just lit up the room when she entered. The food was absolutely delicious. Everything thing was homemade, even the chips and salsa. And, the scones . . .  just melted in your mouth like smooth chocolate. But my all time favorite, was her maple pecan pie. Yummy! Unfortunately, or maybe fortunately, I could only have a small slice since I am losing weight and changing my lifestyle to eat more healthy and to exercise. Our nutritionist told us about a great app called, "My Fitness Pal." It has an extensive database for foods and exercise. As of this writing, I have lost 26 lbs. Give it a try, its free. If you would like more information, just send me an email.
Late Snow in Early May
In the middle of the week, we awoke to a winter wonderland if just for the day. Of course, I grabbed my camera, and headed out the door. It was beautiful. A slight fog was lying low along the mountainside. I captured this Norman Rockwell photo . . . with patches of untouched snow, an old wagon, and  the spring's green showing through from the day before.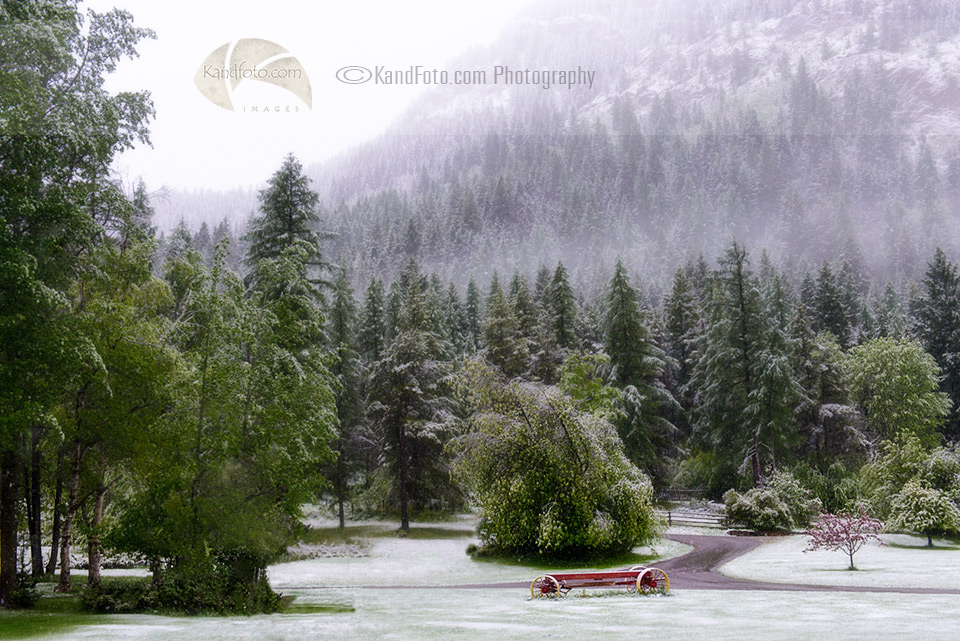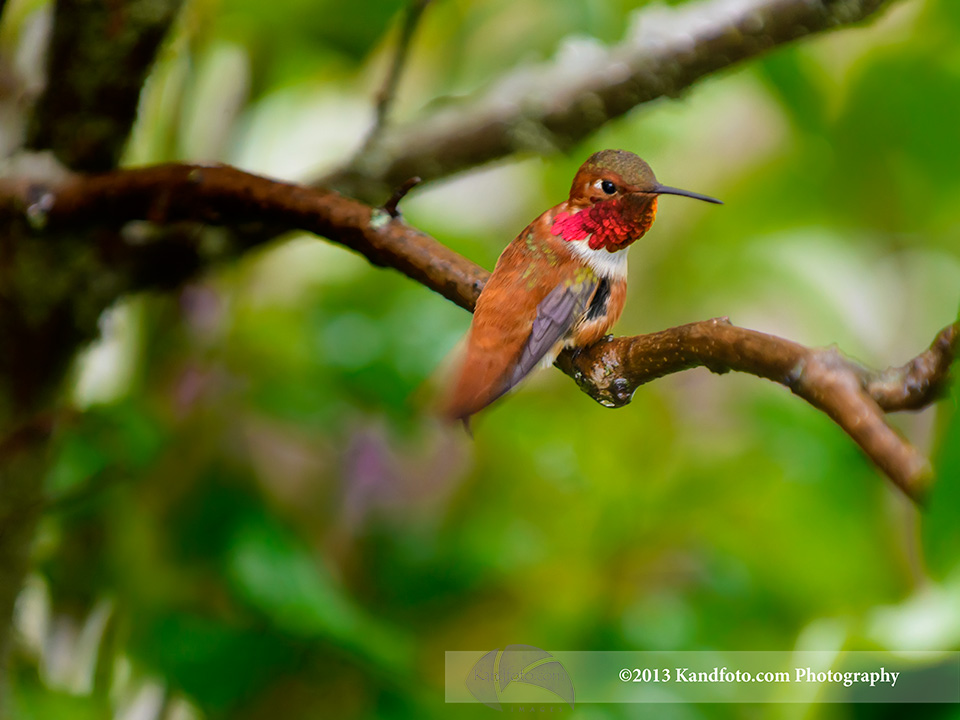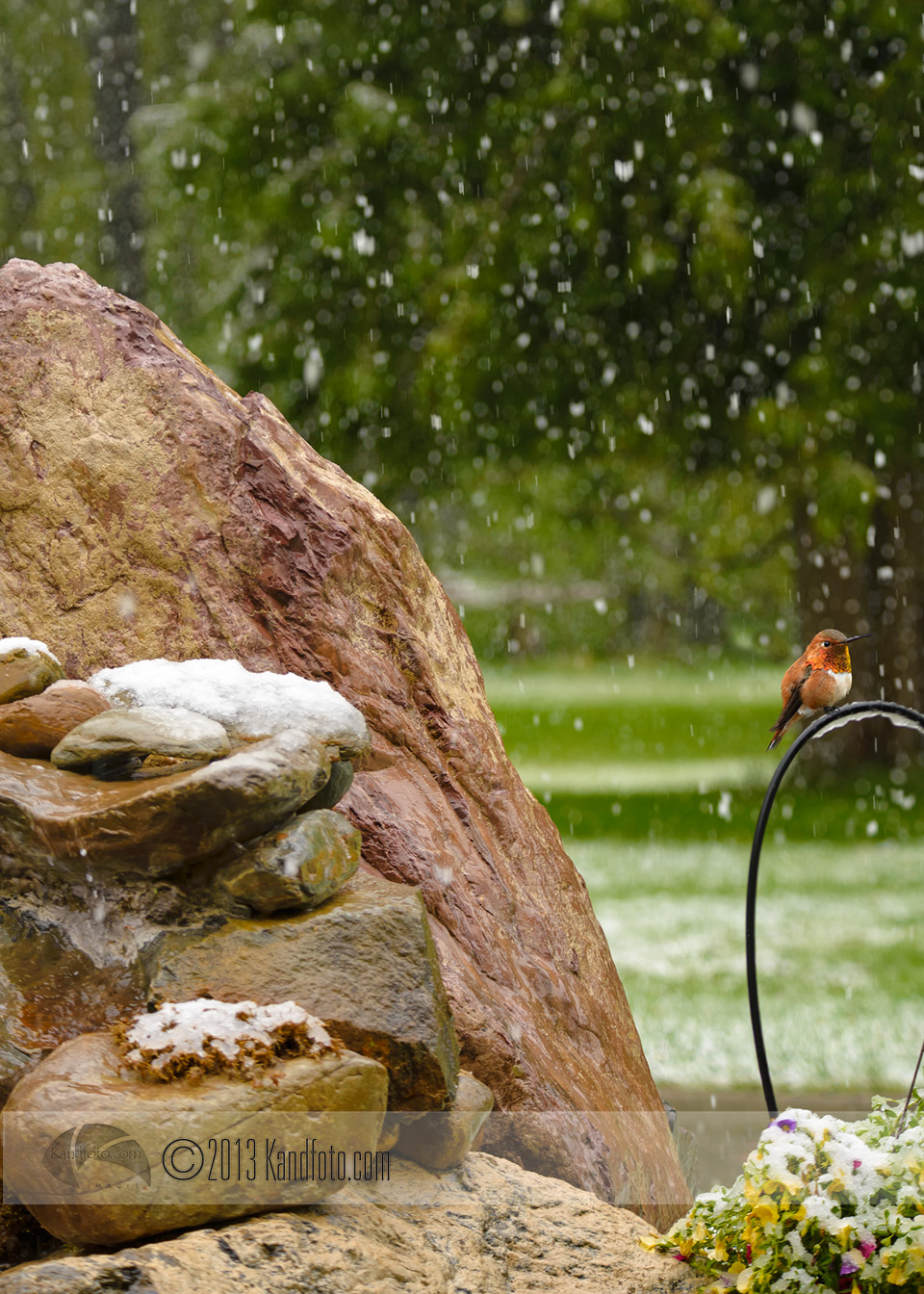 Hummingbirds Galore
The workshop, overall, was an unbridled success. I photographed three species of hummers, the Calliope, the Rufous, and the Black-chinned. When we arrived at the ranch, it was raining and cold. I thought we were in for a big disappointment. But to my surprise, hummers like the rain. It drives them to the feeders.
John setup six stations with a background, three flashes, and flower at each station. To keep the weather out and provide shade, each station had a covered awning or was located on the porch of two of the cabins. You have to have shade to keep the ambient light at a minimum for the flashes and prevent ghosting. We had twelve photographers so to lessen the pressure on C.J. at mealtimes, we took shifts. Barb Gerlach prepared a schedule of times, assigned station numbers and then we alternated. This assured everyone at a different station at different times of the day and early evening plus this allowed C.J. to only have to worry about 6 photogs and their companions at a time.
The first day we got a lesson on station setup, flash setup, and flower wrangling. In the middle of the week, John gave a presentation on exposure in the main lodge. And, he introduced me to a more in depth analysis of focus stacking. I had used it in a class on water drops but not to the detail that John explained. On his recommendation, I purchased and downloaded Zerene Focus Stacking software. I must say I have been quite impressed with this application. The support is excellent.
And, no hummingbird workshop would be complete without the most aggressive little bugger, the Red Baron, as was so affectionately called by all of us. It's a male Rufous who dominates a particular feeder. In other words, he runs off all the other hummers. He usually sits atop a clamp or branch nearby, keeping a watchful eye on his bounty. If any other bird comes in for a taste of sugar water, he dives down to run them off. Each of us had to experience the Red Baron when it was our turn at his station.  He drives away the other hummers leaving the unfortunate photog sitting there without taking a shot. When it was my turn, I took a gun and shot him! NO NO NO just kidding . . . I picked up my Nikon D600, 70-200mm, 1.4x teleconverter, and took photos elsewhere.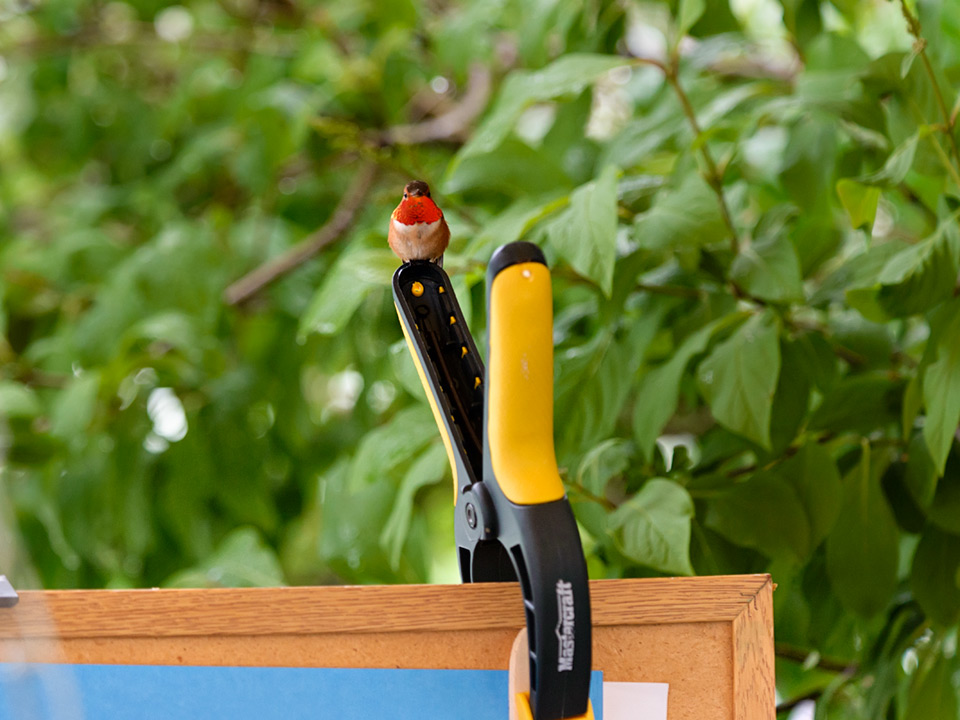 Are Photography Workshops Really Necessary?
Maybe Not. Just recently I was asked why I attend photography workshops. They considered me to be a semi-professional photographer, and why would I need or desire to attend. My first answer was logistics. But more importantly, I enjoy meeting new photographers and learning from them.  Case in point . . . I met a lovely and talented professional photographer, named Cheryl. And, since we were in the same group as well as following each other station to station, I had a chance to get to know her, and watch and learn her techniques. She graduated from the famed photography school, Brookings Institute. Her work has been published in numerous magazines and other publications, but, most impressively, she has won the distinguised award of first place in Nature's Best Magazine contests. And, her work is on display at Getty's Images.
Cheryl is an accomplished professional photographer but yet she was attending the hummingbird workshop. Maybe the question to ask . . . what value do you get for your money? For example, hummeringbird setups can be expensive and labor intensive. If that's fun to you, then probably a workshop would not work. On the other hand, for photographers like me, I love the ease and the knowledge gained for the experts. I am planning workshop trips to Costa Rica, Alaska, and Arizona in 2014.
The Hummingbird Whisperer
Towards the end of our workshop, the hummingbird whisperer came to capture, to weigh, to measure, to record, and to band our hummingbirds. She was an interesting and knowledgeable lady. She knew her birds. And, it was remarkable feat to do this . . . just imagine how small a hummer is and just how small that band is. She captured one bird who had been recorded three years ago. That small bird has been alive and returning to Bull River for three years.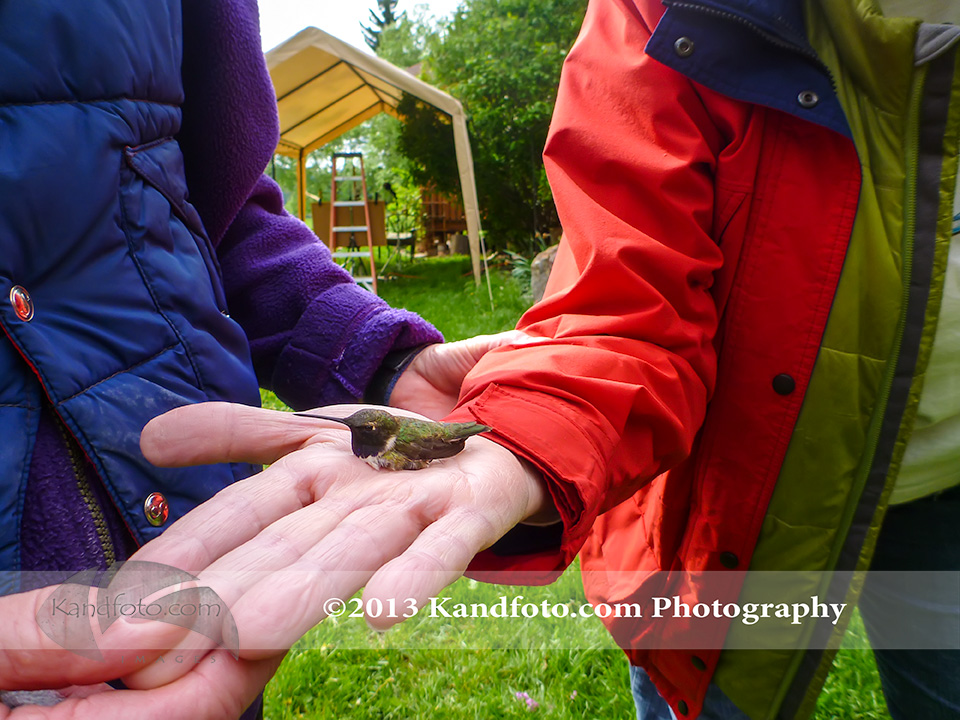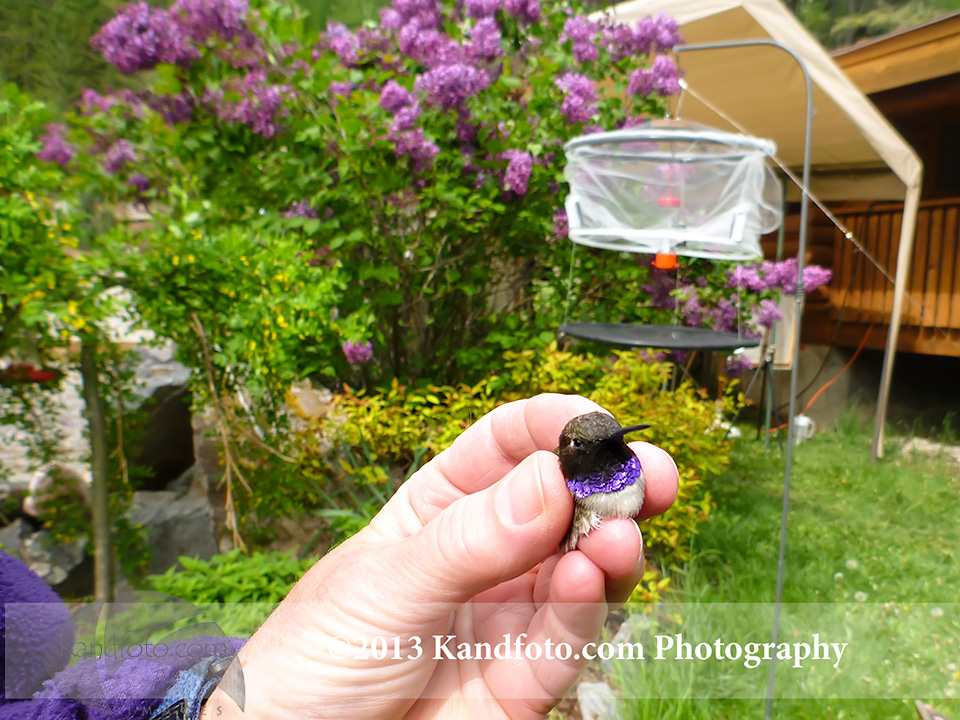 Hummingbirds on Parade
Here are just a few of the thousands of photos I shot during my week at the Gerlach's hummingbird workshop. If you love to photograph hummingbirds, then I highly recommend John and Barbara Gerlach's Hummingbird workshops. Also, I recommend their "Winter in Yellowstone" workshop on snowmobiles. What a kick that was . . .