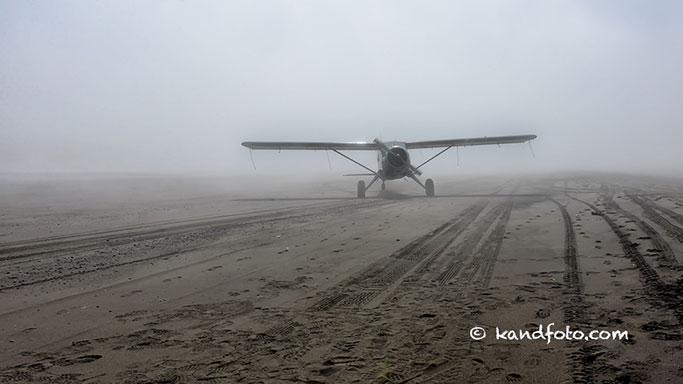 Dangerous Landing
I have been to Alaska now three times but I have never been so scared as I was this time . . . landing on the beach in the fog. We've had some rough landings in the past but this was super scary . . .
Getting around remote Alaska, where the bears roam, is usually by boat or bush plane. A week before our scheduled trip to Lake Clark National Park, Alaska, a small bush plane crashed, on takeoff, in Homer, killing all onboard. In all honesty, I am terrified of flying, so this just intensified my known phobia. A pilot friend of mine just kept reminding me . . . "balance and weight." What was the first question out of my mouth when we were boarding our VERY small bush plane to Silver Salmon Creek Lodge . . . "how long have you been flying and is the luggage balanced properly."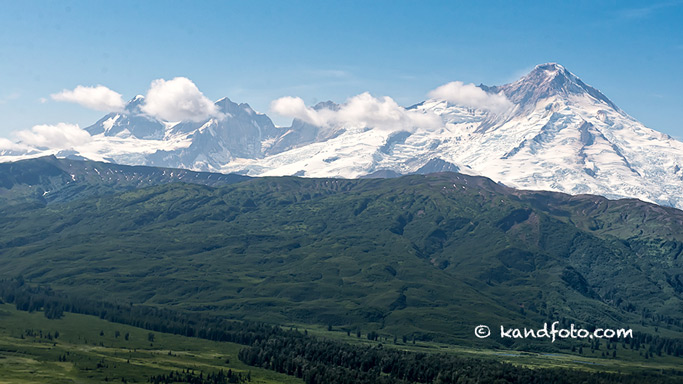 Our flight had been delayed for five or six hours due to a fog bank which was covering that area of Alaska. But, finally the pilot, decided to go. It was a threesome onboard. The flight out of Anchorage was beautiful, but as we got closer to Lake Clark National Park the fog bank was still there and seemed to be thicker. We lost sight of the ground. At first they were going to land in a small inlet where the boat would pick us up but that was aborted. So the pilot decided to bank into a valley, and try to drop down below the fog bank for landing on the beach. My husband, Jim, asked just how tall the trees are in this area. Good question!!! It's scary when you can't see the bottom but you know that your decreasing speed and altitude. Silently, I said a few "Hail Mary's" and hoped for the best. Some people were walking on the beach when all of sudden a plane dropped out of nowhere and landed almost right beside them. Can you imagine their surprise?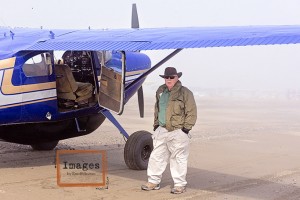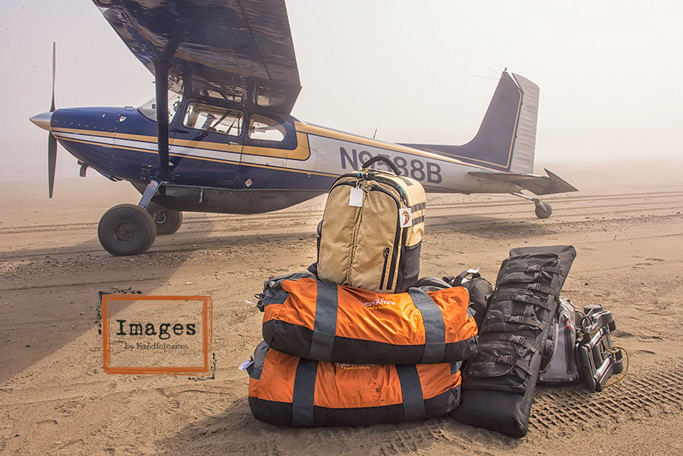 Packing Tips for Remote Alaska
As I mentioned before . . . weight and balance. Here's some great tips when traveling to remote Alaska . . . pack light, and that's a challenge for a wildlife photographer and a fly fisherman. We had to keep weight limits to 50 lbs per person total. We brought our Eyes on Africa (made by Eagle Creek) duffle bags (very light weight empty), tripod, fishing rods/reels, clothes, etc.
Pack light, bring just enough clothes for at least four days. Laundry is usually provided for a minimal cost. Wear coats and hiking boots on the plane. Don't forget RAIN GEAR. A good water-proof light weight jacket (in summer months). Bring clothes you can layer. I packed my Gitzo tripod with Whimbley head and rain covers for my lenses in checked luggage. Do your research on packing lightweight. Make a list of essential stuff. Ask yourself . . . "do I really need this?"
Bring a light weight computer. I brought my new MacBook Air, which weighs less than 3 lbs, and a small external hard drive (1TB)
Optional – Kindle and iPad. I brought my new Kindle Paperwhite and my new iPad Mini with Retina Display. Wifi is sparse there, hence, operative word . . . optional, but great for stacking movies, games, books, etc. I must have my creature comforts!
Gura Gear Camera Bag (its one of the lightest camera bags made). I packed my 70-200mm lens, 1.4x and 1.7x teleconverters, flash, 16mm FE, 24-70mm lens,  12-24mm wide angle lens, and assorted media cards, filters, etc. Jim carried my 500mm lens in a separate bag. Note: Its always nice when you have a camera sherpa along. Now, this was a real challenge to keep it down to a maximum weight of 15 lbs. SHHHHHH! I ended up with more than 24 lbs.
Fishing Gear – My husband is the fisherman. I know it includes rods, reels, flies, waders, heavy duty wading boots, etc.
Medicine, prescription glasses, if needed, sunglasses, etc.
I know you have heard this numerous times but it is always well worth repeating. Pack all your essential items, like medicine and glasses in your carryon luggage. I pack my essential stuff in my computer bag. Since Alaska is a much dryer climate, its essential to bring lip balm and hand lotion, and hand sanitizer. I consider those items essential.
David Coray, owner for 27 years, runs an adventure lodge for bear viewing, world-class fishing, sea-kayaking, bird watching, hiking, offshore halibut fishing, and photography. Several professional photographers recommended the lodge to us. Its an all inclusive lodge. It was a pleasant surprise to have gourmet meals in such a remote area, and the desserts . . . yum, yum, yum. Our room, with an ensuite bathroom, was clean, nice and comfortable, with plenty of room to store all our equipment. There was a mud room where boots, shoes, fishing equipment, tripods, etc. were stored. They provide you with knee high wading boots, and you will need them since a large part of the time you are hiking out to the meadows and following the bears. This is a type of wetland that can be quite boggy in places.
Actually, there is no wifi. All communications with the outside world needs to be done on their computers.
Our photography guide, Rick, arguably, is the best field guide. Being a damn good photographer himself, he knows where to get us for the best light and composition. He understands bear behavior, and got us in close, really close. One of the photographers in my group, stated that the people back home will never believe just how close we were to the bears.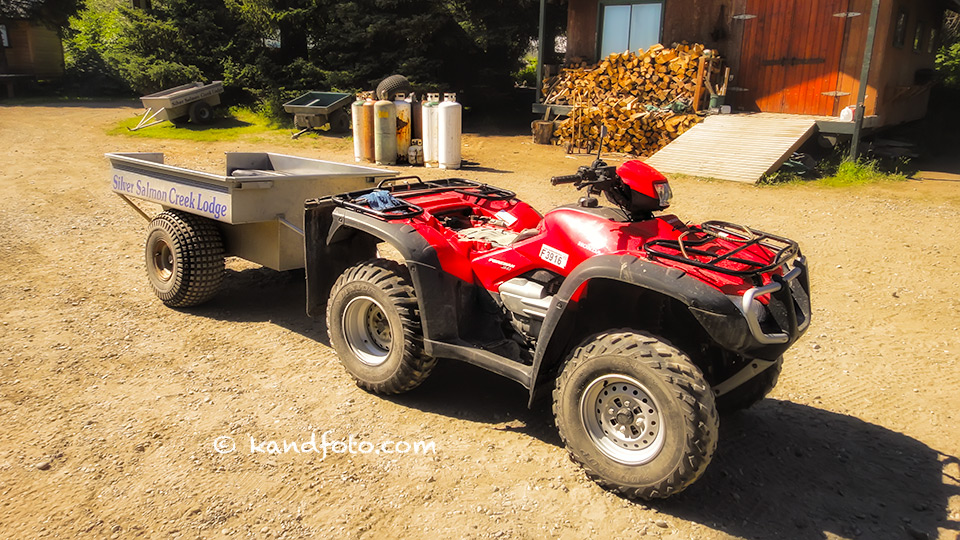 Rick ferried us out to look for bears in an ATV with a cart attached. It can be a bumpy ride but no complaints from me . . . beats walking, carrying a huge tripod and 500mm lens on a muddy road. Having said that, there still was an enormous amount of walking with camera equipment as we followed  the bears in their constant foraging of food. Rick told us that a brown bear, i.e., grizzly, must eat over 50 tons of food a week during the spring/summer/fall months in preparation for hibernation in the following winter. If they don't required protein, they will wake up in the middle of winter and starve to death.
In Pursuit of the Grizzly
We started out every morning before sunrise, and returned in time for lunch. Some downtime after lunch, and then back out until supper. Remember it doesn't get dark until 10-11 pm in Alaska in the summer. Our first encountered with the brown bears, shortly after landing on the beach, came with a teenage bear, appropriately called, "Blondie." On this particular ride, my husband, Jim, joined us as he was not scheduled for fly fishing until the next day. I just couldn't believe how close we were able to get to these bears. One of the photographers mentioned that no one by home will believe him. They'll think he cropped his photos.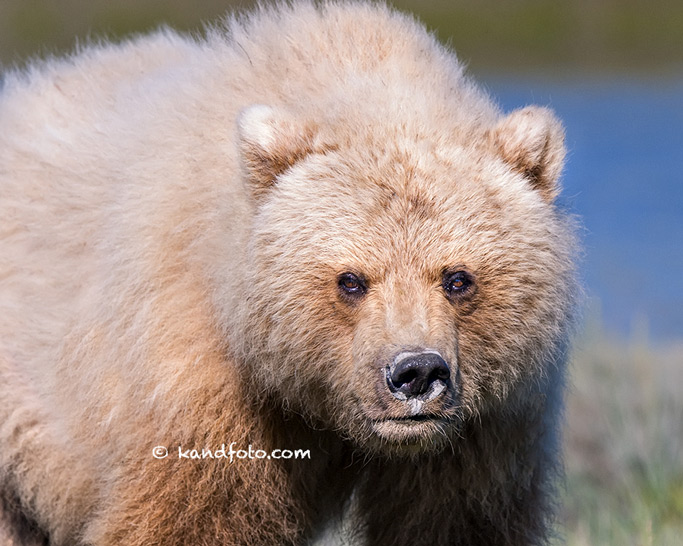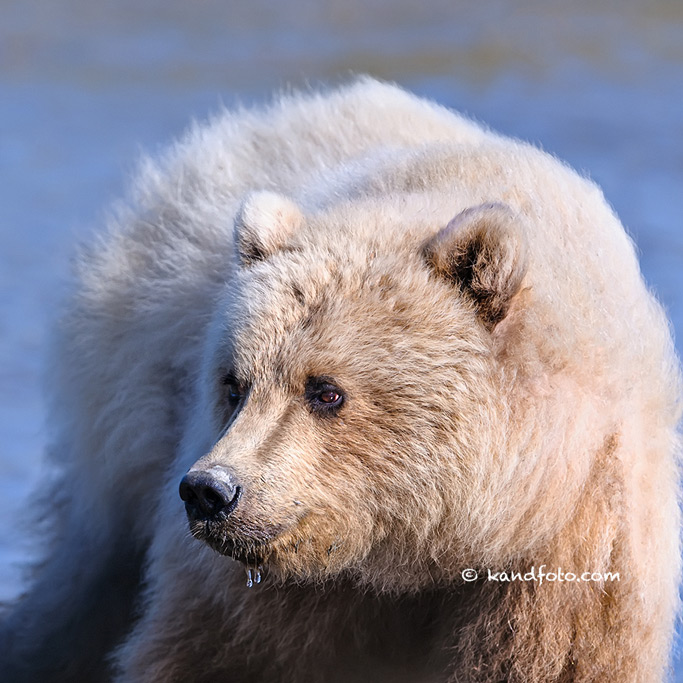 Technically, the correct name for these bears found along the coastal lands of Alaska are called, "Brown Bears." Grizzlies are referred to as the inland brown bears, however, same scientific family, Ursus arctos. The bears known as "Kodiak Bears" are indigenous to Kodiak Island, Alaska. These bears are notably the largest land predator.
A Mother Sow and her Cubs – Nothing Like a Mother's Love
According to Rick, our bear guide, the sows and their cubs usually stay in the large sweeping valley foraging in the grass while the boars stay close to the inlets, affectionally called, "The Bachelor Pad." The sows are constantly on the alert for boars showing up, which will kill the cubs. Often we found ourselves the "babysitter" while mother went off to do her "bear thing." In other words, she would leave the cubs near us, and she would be in the far distance munching on grass. Side note: We were just a bit too early for the silver salmon run so I missed out on photographing the bears catching salmon in the rivers around Silver Salmon Creek Lodge.
One of the highlights of this trip was to see and photograph grizzly sows nursing their young.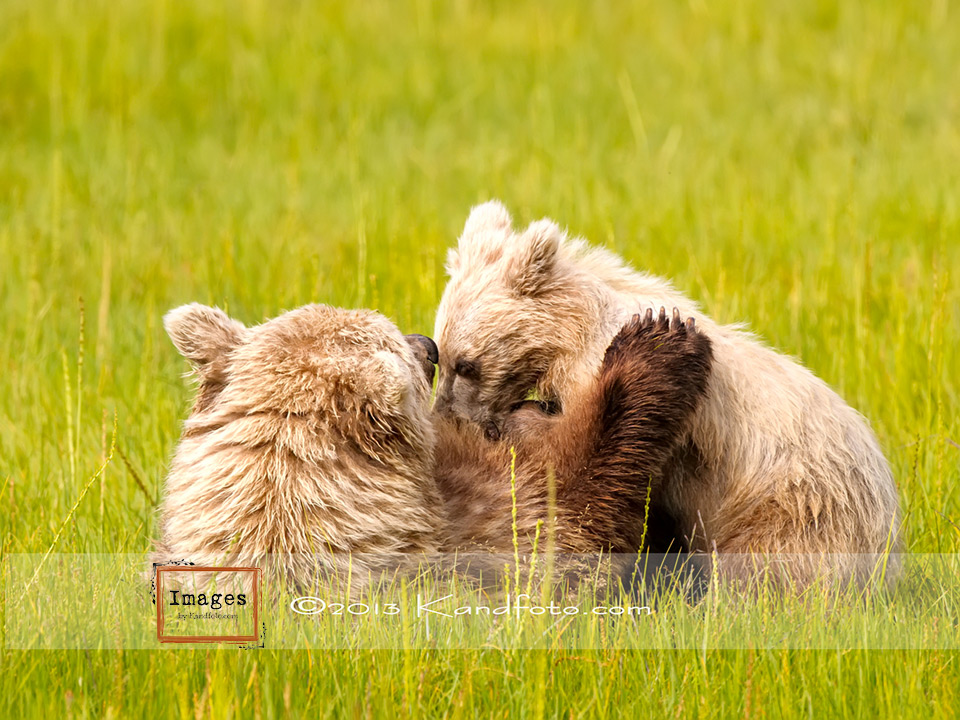 A Day of Clamming 
We had foggy mornings most days but around mid morning the fog had burned off, and we followed a sow and her cubs as she made her way to the beach for some good down home clamming. The bears know that the lines leading out into the water are fishing lines, well, at least some of them. Cubs were having none of the water. They were perfectly happy to let mom do all the work. The cubs watched from a safe distance as mom tugged and pulled at the lines looking for a quick catch!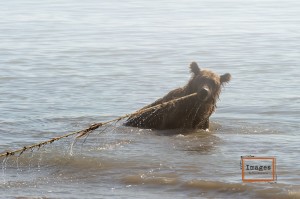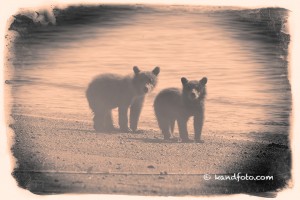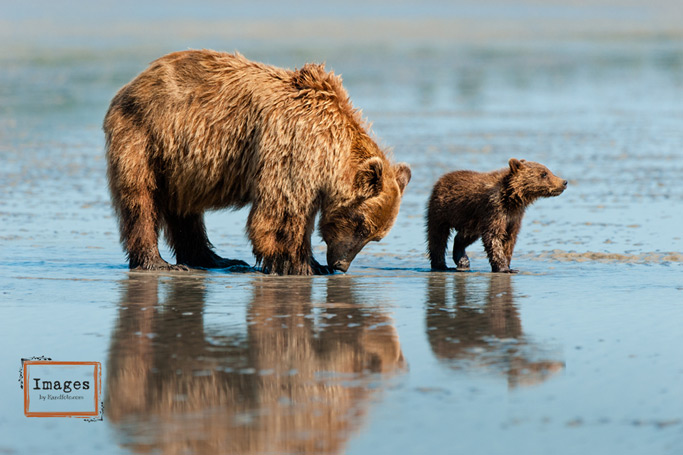 When the tide goes out  . . . it really goes out . . . say 4 or 5 miles. The joke around the lodge, when the tides out, you can walk to Homer.
Fly Fishing: Alaska Style
And, no Alaskan photo adventure would be complete without a man and his fish  . . .  As I stated earlier, we were a little too early for the silver salmon run. But, nonetheless, there were still fish to be caught, and the man with his fly rod were there. He fished the Silver Salmon Creek and the ocean tributaries.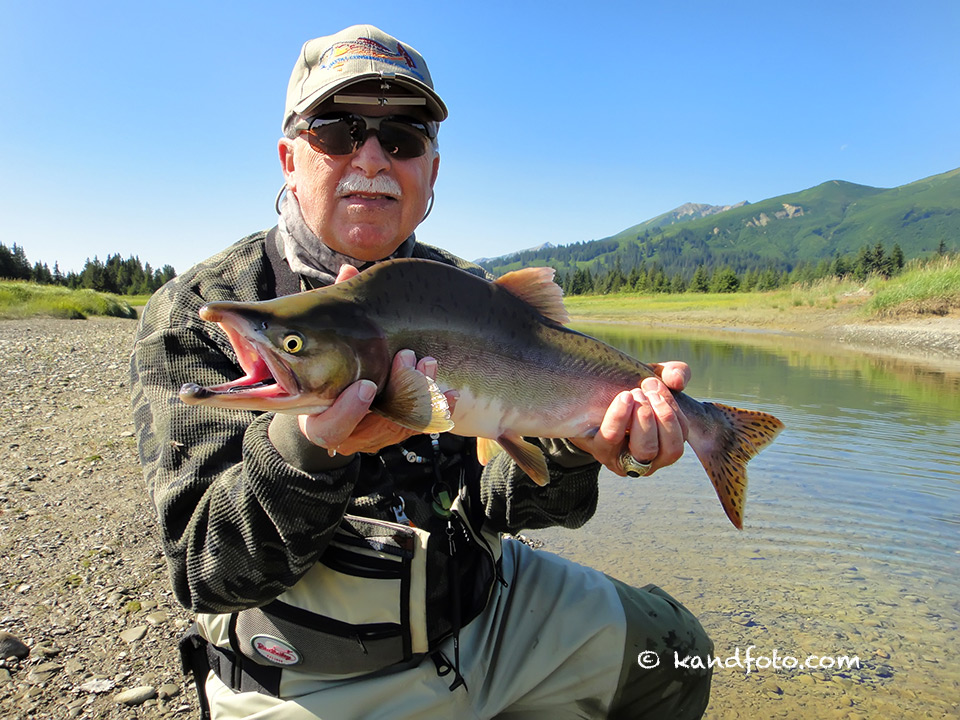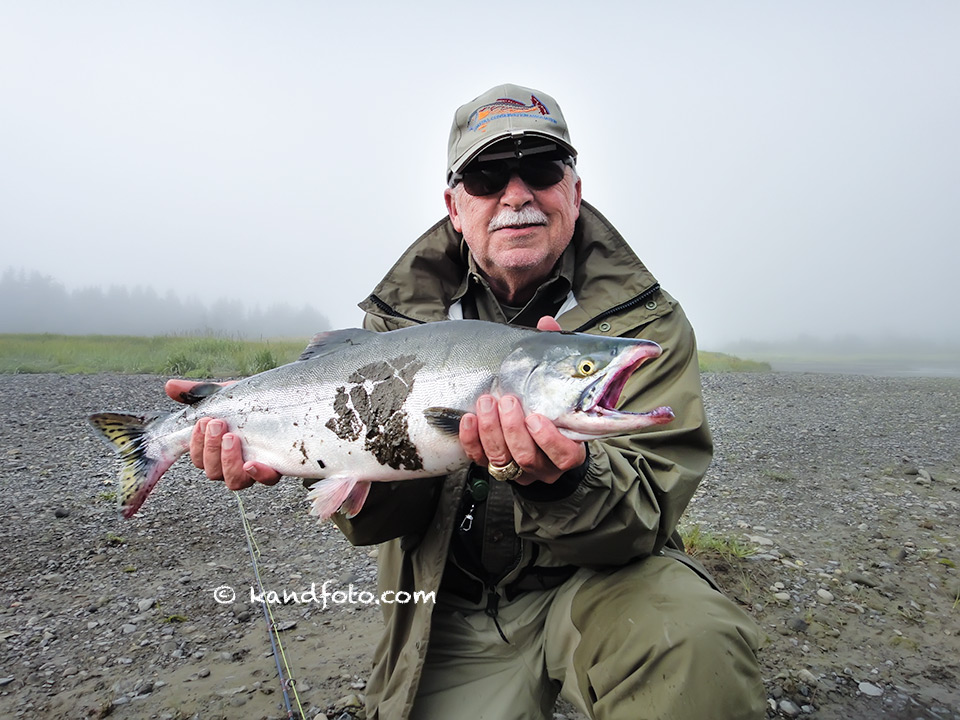 One day, Jim and his guide were fishing when a male brown bear showed up to check out the fishing prospects. Jim had just landed a silver. The guide yelled to cut the line and get out of the water. No. 1 rule in Alaskan parks . . . fisherman can NOT compete with a bear for the fish. You've heard the line . . . "cut bait." Well, this version . . . "cut bait" and RUN." He claims it was a really big one.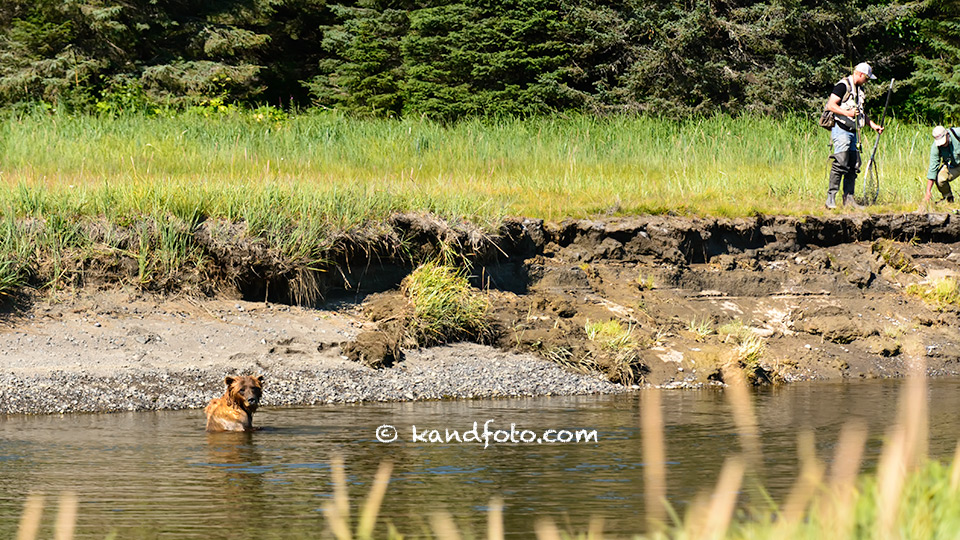 Where the Boys Are
Our last evening together was spent photographing a fairly large Brown Bear boar on the meadow near Silver Salmon Creek.  The massive pods of salmon had as yet not made the famous run upstream to spawn. There were fish but apparently the bears just didn't want to work very hard at catching a fish. Their strategy . . . wait to the pods come in massive numerous so all they had to do is jump in and grab.
I discovered a bunch of fishing line all strewn out on the grass, and a rod laying nearby. The funny thing . . . this particular boar had a tackle dangle from his chest area. We all wondered what had happen to the fisherman, but no one wanted to go looking for him. I wonder why?
Notice the tackle hanging off the bear . . .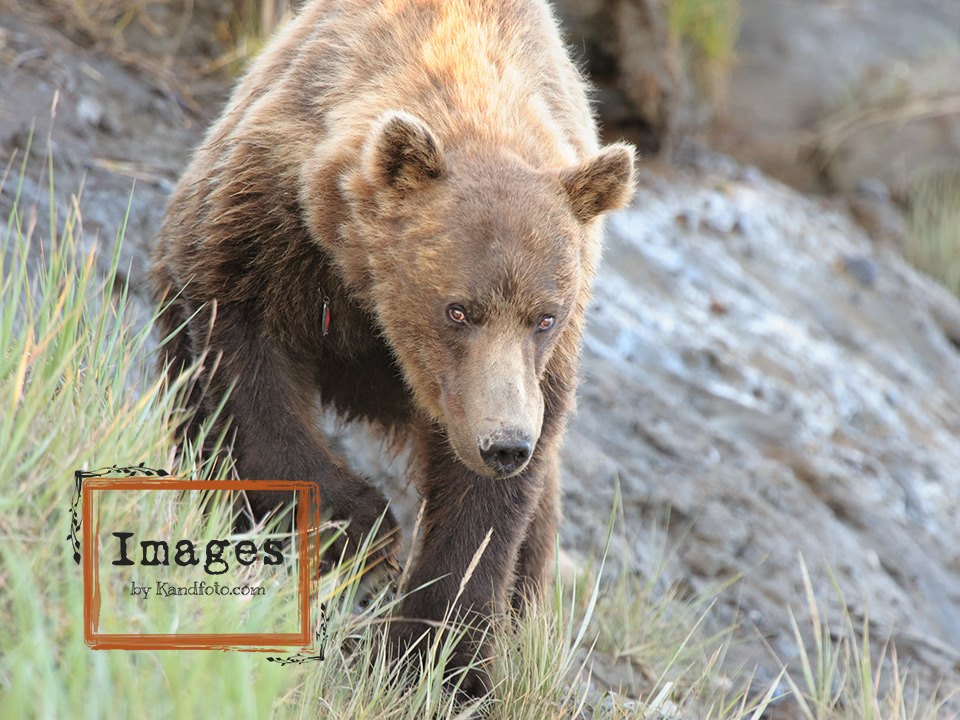 Confrontation with a Mother Grizzly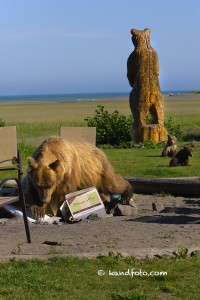 Jim really had no interest in photographing the bears, however, he got some nice videos of a mother and her cubs on the grounds of our lodge just as he was preparing for a day of fishing. He was videoing the cubs hesitant about moving any further into camp but curious at all the commotion they were causing. He was on the mud room landing videoing the cubs when he heard distinct grunting noises . . . mother grizzly was almost right beside him. He slowly eased himself back inside the safety of the mud room.
The Amazing Bears of Lake Clark National Park, Alaska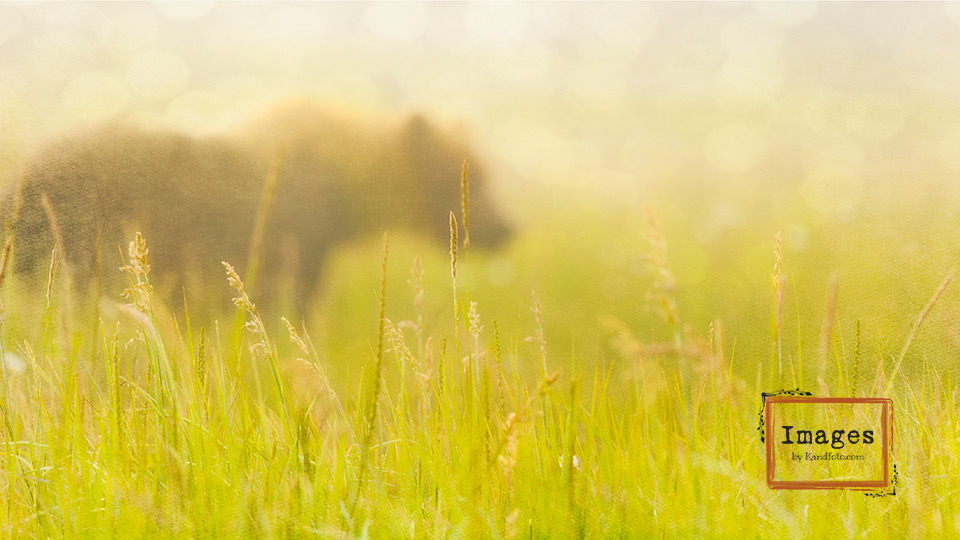 I spent four amazing days with the Coastal Brown Bears of Lake Clark National Park, Alaska. To marvel at the beauty of this place, the antics of the bears, and being aware of the dangers photographing these bears at such close distances. After all, these bears are North America's largest land predator. On a high note, I left Silver Salmon Creek Lodge satisfied with a well rewarded trip. The highlights of my week, including the nursing cubs, was photographing the spring cubs at play, and having the opportunity to capture images of the colorful Horned Puffins.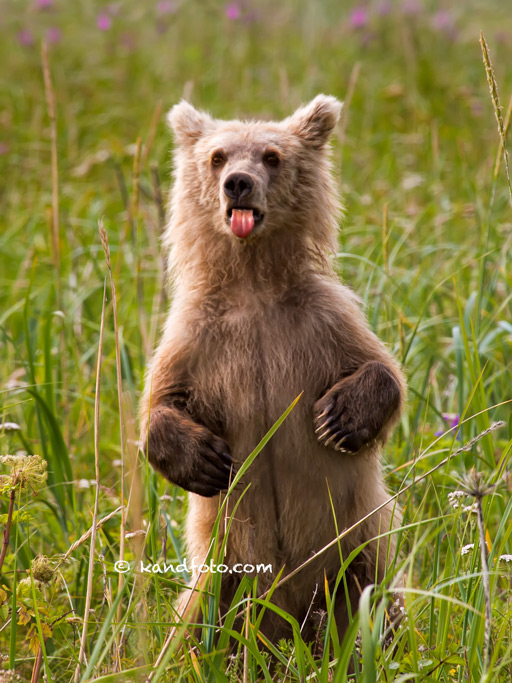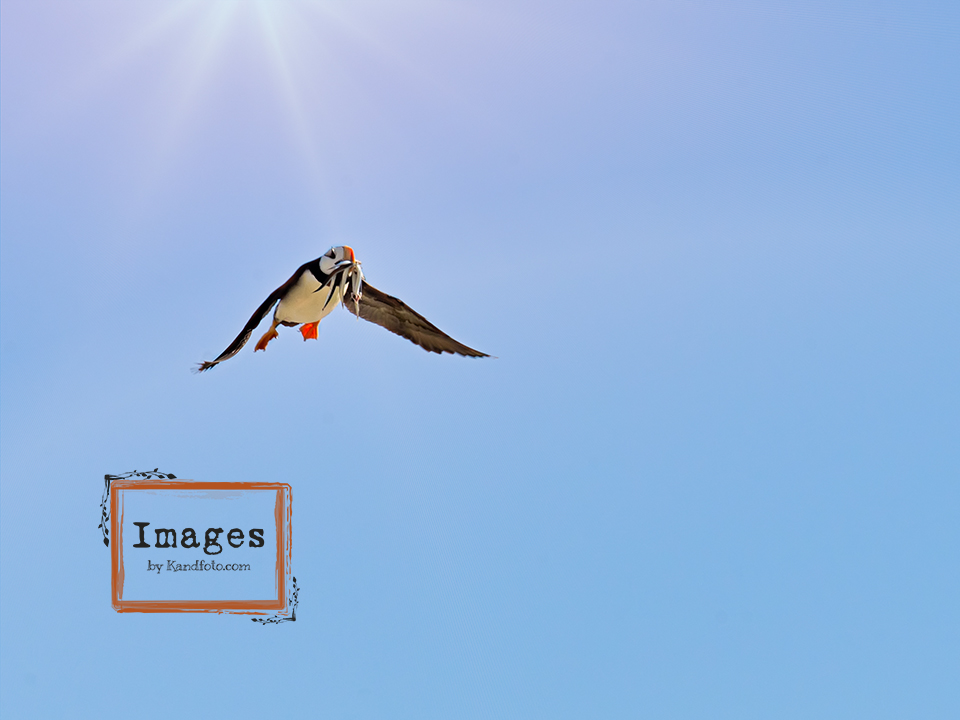 The Secret Island of Puffins
David sworn us to secrecy as we motored out to the "island." The island is composed of granite cliffs with large protruding rocks jetting upward to over ~ 500 feet. It was filled with thousands of water birds. But, specifically, this is home to the Horned Puffin, Fratercula corniculata. Its a beautiful, colorful bird. We were there just as the nesting season was beginning. The Puffins fly out to catch small fish for their young. These birds are fast flying. Its a real challenge to capture them in flight.