The Okavango Delta (or Okavango Swamp), in Botswana, is a large inland delta, formed where the Okavango River reaches a tectonic trough in the central part of the endorheic basin of the Kalahari.  The area was once part of Lake Makgadikgadi, an ancient lake that mostly dried up by the early Holocene.

Every since Andy Biggs, a professional photographer who specializes in African Photo Safaris, made a presentation at my photo club several years ago, I wanted to photograph Africa . . .the people, the landscapes, but mostly, the wildlife. At first my husband, Jim, was hesitant; but one fateful day, he gave me a copy of a flyfishing e-magazine so that I could peruse the beautiful photography. I noticed an article on fly fishing for tiger fish in Botswana . . . and that's how I got to Africa. We signed on with Andy Biggs African Workshop, put together by Eyes on Africa. And, so our adventure of a lifetime began . . .  
Just a side note: I highly recommend Eyes on Africa, and owner, Nicky Glover. She arranged for our fly fishing side trip at the Nxamaseri Island Lodge and all the logistics involved to get us from our safari tent camps to Nxamaseri without a hitch.
South Africa
On November 21, 2012, we left Houston aboard the new Lufthansa A380-800 for Johannsburg, South Africa (Jo-berg) via Frankfurt, Germany, with a ten-hour layover. Because this was a special event for us (but mostly because we are OLD), we splurged on Business Class seats. This wide body aircraft holds about 500 passengers. The services were excellent but the seats were most uncomfortable. Usually the seats recline 180° for the "lie-flat" position. These seats only reclined 168°.  Consequently, I always thought I was slipping to the floor. United has the BEST Business Class "lie-flat" seats.
We decided to come in a day earlier to relax and rest (mainly getting adjusted to a new time zone).  We stayed at the PEERMONT MONDIOR – Emperor's Palace, which is connected to the Emperor's Palace Casino. Unfortunately for me, but not for Jim, no nice shopping areas could be had just a movie theatre and a variety of restaurants, albeit, very nice, especially "Tribes." When I come back (you notice I said when), I will stay at one of the hotels in Sandton or at the International Hotel right across from the airport.
Botswana
We landed in Maun, Botswana, fighting off the film crew and contestants in the next season of "Amazing Race." Our group leader, Andy, sat with two very beautiful young women from Austin, TX, who were contestants. Supposedly, it was a secret but they told us they were racing into the Kalahari Desert. Andy was lapping up all the attention he was getting as he flipped through his iPad showing the "racers" what he did. I believe I counted the use of the word, "awesome," at least 50 times. At one point lights and cameras were rolling on us as the two women were admiring Andy's work. There just might be a chance that I, yours truly, will be in a small segment of next season's, "Amazing Race." Note to self: watch new season premier beginning Feb. 19, on CBS.
I cannot write this post on Africa without expressing my feelings toward the people of Botswana. Without a doubt, these wonderful people are full of life and happiness. They were a gracious host and ambassador of their country. Their music filled the night air with songs of  their native traditions. Botswana is a beautiful country filled with exciting but dangerous wildlife. Its borders are safe and stable. I have never felt so at home and comfortable than I did in Botswana.
Sandibe Safari Lodge
We flew on a large "bush" plane from Maun to a dirt landing strip where our game drivers were there to meet us, load luggage and supplies, and drive us back to camp. I was so excited, not like when I flew across the tundra of southwestern Alaska, that was pure anxiety and fear. As we were circling, I saw a G I R A F F E, drinking at a watering hole! WOW! It's No Zoo, Kandace, you're in their territory now. And, to think, there were lions out there too.
Sandibe Safari Camp, a private concession, is located on a small channel near the clear waters of the Okavango Delta. We were next to the Moremi Game Reserve, which lent us to a variety of animals. You must keep in mind that there are no border fences. These animals of the plains roam freely. The camp has no electric fence so we were escorted back to our thatched cottage each night by one of the field guides. Andy had us up by 4:30 am or earlier, breakfast at 5am, and on our game drive by 5:30 am. We were a group of 14 photographers in Land Cruisers  . . . four to each Cruiser. The roads, if that's what you want to call them, were rough. My body got a lot of jostling around, both up and down as well as sideways left and right. The drive from the airstrip and the first full game drive day riding in the third row took its toll on my back. By the second day, I could barely walk. The pain in my lower back was becoming unbearable. I borrowed an umbrella to use as a cane. And, as fate would have it, the day I decided to rest my back, was the day the rest of the group got the amazing shot of the leopard lounging on the tree branch with both legs dangling and  beautiful morning light flowing on her face. This shot is on Andy's Facebook Page. Note to self: screw the pain, and get out there. I did start taking Celebrex on the second day and felt better 24 hours later. Andy permanently stationed me in the front seat next to the driver, which seemed to do the trick along with DRUGS!
The first day game drive . . . and what a beautiful morning. Luckily, we were experiencing strange weather for the Delta at this time. November is Africa's late spring, early summer, and the beginning of the rainy season with temperatures ranging as high as 114° but with less humidity and nippy cold nights. What do you expect for pete's sakes, your in the desert!
However, what we got were beautiful sunny days with temperatures no higher than 75° and cool nights.
My first time to see a leopard. She had dragged her kill, a baby impala, up into the tree. So we spent a few hours photographing and waiting to see if she would come down. Andy told us to look for more creative angles and shots so I decided to focus on the paw.
But the highlight of our first day was what the Africans call, " A Sundowner." Just before sunset, we gathered at a fairly large pond loaded with a group of hippos. The hippos were bellowing their displeasure of our appearance, and boy was it LOUD. Our guides broke out the tables with tablecloths, no less, put out nice hors d'oeuvres, and proceeded to serve cocktails on the savannah as the sun slowly sunk in the sky. One thing while writing this blog . . . hippos come out of the water at sunset to feed on the grass. I don't think I would have stayed around knowing that little tidbit.
The second day we saw elephants, zebras, impalas, giraffes, and my most prized animal, a male cheetah, relaxing on a termite mound under the shade of huge tree.  Andy told us that we were very lucky to see and photograph a cheetah. Although they are daytime predators, they are elusive and hard to find. Unfortunately, I did not get "a cheetah in action," I still felt lucky to have had the opportunity to capture this sleek and beautiful animal, even if he was in a state of rest.
The Kill
But, God does see to it that for every missed opportunity, you do get a second chance . . . and that happen on the second day's afternoon game drive when we came upon a female leopard nervously eating a warthog under a tree. She looked around constantly as she ate with her focus on the distance bush. And after watching a nature program on leopards, I understand why. These cats are what they call, "opportunists," meaning that they are more likely to steal prey from another animal than actually hunt themselves if the occasion arises. Leopards will leave the kill when danger is sensed. Their motto, "It is better to eat another day than to fight."
I was surprised to learn that a leopard has more enemies than any of the other big cats . . . baboons, lions, tigers, hyenas, and other leopards. But, they have managed to outnumber the lions, tigers and cheetahs all total in numbers living in the world today.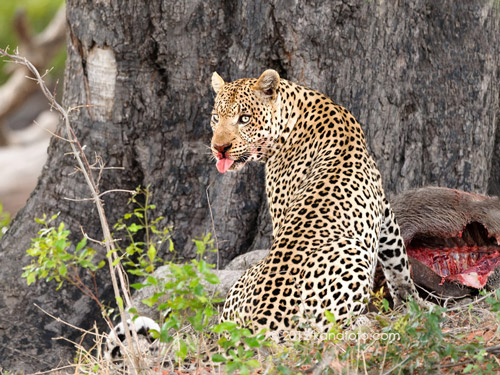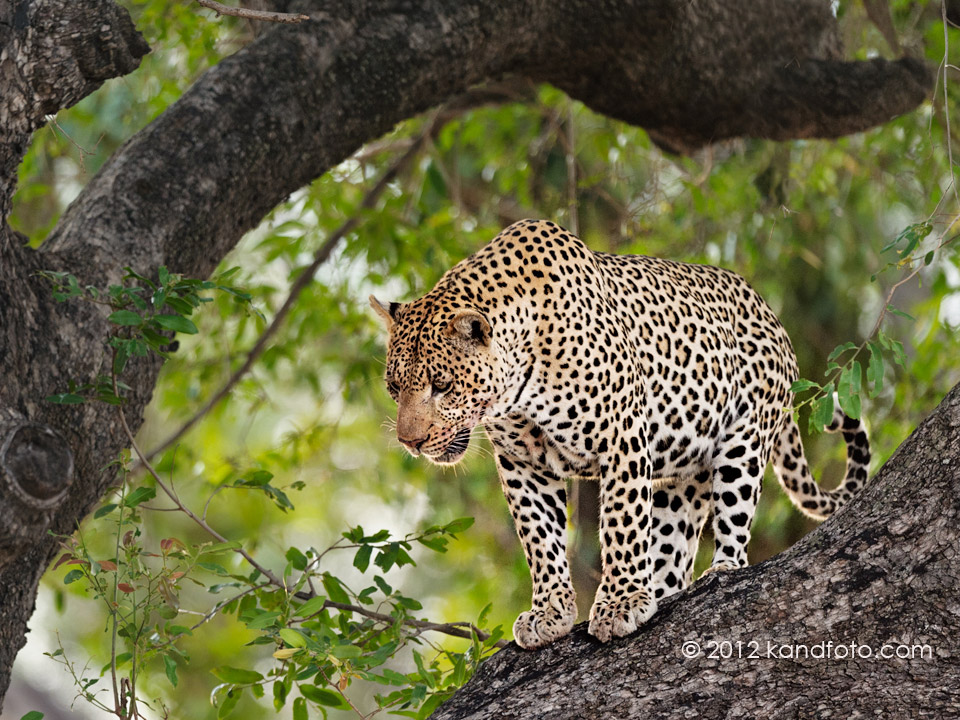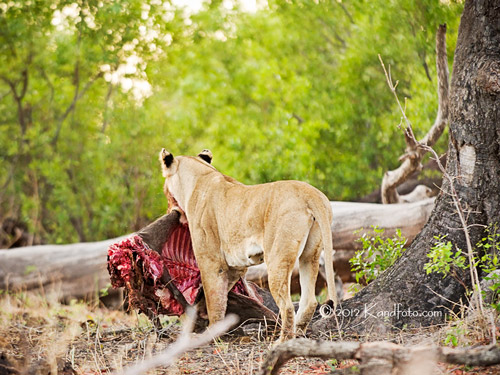 As I kept my finger on the shutter, my thoughts were flying . . . "what an amazing place, in the land of eat or be eaten. How lucky I was to observe and photograph this natural event of animal behavior as it unfolds before my eyes."
Our guide told us that she had probably stolen the warthog kill from a lioness who left to get her cubs. And, as expected, the lioness returned to reclaim her kill . . .
Suddenly, the leopard stopped eating, ears perked, staring at the bush. She was in that tree before I could even think about snapping a shot. The lioness emerged from the bush staring up at the leopard. We were all thinking that the lioness might try to climb the tree after the leopard.  But, instead, she dragged her kill away from the tree, and beckoned her cubs to a feast. And, all before our eyes, the lioness and her two cubs were indulging in her bounty. I just couldn't get over how close we were.
Another lioness came out to drink at the pond as well so we had great opportunities . . . two beautiful and playful cubs, and reflections of a lioness at the watering hole.
Sandibe Concession is large, spreading out over 67,000 acres of land. Each cruiser took off in a different direction, however, if something good was spotted, the guides communicated to each other via radio, then all vehicles converged. On our third morning out, our tracker spotted a male leopard in a tree. We had the best spot, best angle and the best light.  In photography, you should always move around for  a better position, angle, light, etc. In a safari truck, that's almost impossible because your moving your truck not your body around. The logistics become complicated . . . you have to deal with other trucks, road conditions, very tall weeds and sticks, all the time not scaring off the animal. One thing for sure, these animals completely ignore you as long as you stay in the truck. We got so close to these large predators. And, in all actuality, they have the ability to leap into the truck  but they don't.
Pushing the ISO as the light close down, I was losing shutter speed so it was time to go. BOO!
Leopard on the Hunt
Day Three, our tracker found a male leopard in the tree with beautiful light and background. After the "photo shoot," he tired of us and decided to hunt. What does a good game driver do . . . follows the "hunt."

Walkabout
After searching for two hours, we finally found two male lions. According to Andy these were two old brothers. I would say really old, one had a broken fang, which brought to mind a video I purchased and watch called, "The Amazing Cats," narrirated by Morgan Freeman. It is a story of two cats . . . a cheetah and a lion pride. The pride's leader was called, "Fang," and he was missing a lower canine tooth. They had been snoozing under baobab tree in the late afternoon light.
"Fang" decided it was time for a little snack so he stretched, yawned, stared at us photographers all happily snapping away just like the paparazzi surrounding a celebrity. As he began his walkabout, we followed him on his journey. At one point, he walked straight to the Land Cruiser, straight at me, then proceeded around it. Jim could have reached out and touched his mane.
As he walking through some tall grass, he spotted a herd of zebra grazing quietly on the soft, green grass. A  baby zebra was lying near his mother. As I watched through my viewfinder the events playing out in the land of "eat or be eaten," I was praying . . . "oh no, not the baby." Luckily for the zebra, the mother gave out a quick sound to alert the herd, and off they went with baby in tow. Life on the Botswana plain in the Kalahari Desert is harsh. I'm reminded of a quote I read once, "Every morning in Africa, a gazelle wakes up. It knows it must run faster than the fastest lion or it will be killed. Every morning a lion wakes up. It knows it must outrun the slowest gazelle or it will starve to death. It doesn't matter whether you are a lion or a gazelle . . . when the sun comes up, you'd better be running."
Stay tuned for the next in a series of post of my photo safari/fishing trip to Botswana and South Africa.
A Lion Gallery